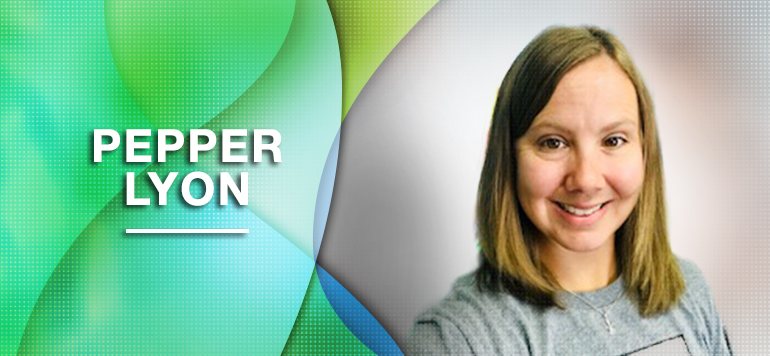 Pepper Lyon,
LPT
---
Monroe Office · Pediatric Therapy
---
Neurological Deficits · Post-surgical Rehab · General Deconditioning · Sport Injuries
---
Pepper is a Licensed Physical Therapist (LA #0951R) who has been practicing in multiple areas of physical therapy since 2007. For the last 6 years, Pepper's primary focus has been in pediatrics, working in both the outpatient and home health setting in Texas and outpatient in Louisiana She has worked with a wide array of impairments and conditions. Prior to pediatrics, she has a background in inpatient rehab and home health. Pepper is married to Jason Lyon and has two rambunctious boys, William (7) and Eli (3).
Pepper grew up in the small town of Haynesville, Louisiana, danced for Twin City Ballet, was a camp counselor at Med Camps of Louisiana, and stayed local for her undergrad degree. She graduated from Louisiana Tech University with a Bachelor of Science in Applied Biology with a Minor in Chemistry and a concentration in Kinesiology. After graduation, she moved to Dallas, TX, to pursue her degree in Physical Therapy graduating from Texas Woman's University with a Master of Science in Physical Therapy. While at TWU, she gained experience in acute care, inpatient rehabilitation, and pediatrics.
Pepper began working at HealthSouth Rehabilitation Hospital in Arlington, TX, with a focus on neurological deficits, post-surgical rehab, general deconditioning, and wound care with a multiple disciplinary team of therapist, dietitians, and doctors. From there, she did a short stent in adult home health in the Fort Worth area and then pursued her passion of working in the pediatric setting. Starting as a treating therapist with Sante Pediatrics (now Epic Pediatric Therapy) and moving upward to becoming the Physical Therapy Supervisor while continuing to treat in the 2 outpatient clinics and home health in the Fort Worth and Arlington areas. After much prayer and discussion, Pepper and her family decided it was time to move back home to Louisiana. She has been working for Glory Therapy for the last year and a half.
Pepper has over 10 years of physical therapy experience in a variety of settings with the last 6 years in pediatrics with children from birth to 21 yrs of age. She continues to keep learning and seeking out courses relevant to the realm of pediatrics ( NDT for pediatrics, Treating Children with Complex Disabilities, Rocktape certified, Pediatric Sport Injuries, just to name a few). Her desire is to continue to learn and grow in the pediatric realm and to become a Pediatric Specialist. All children deserve to be loved and given the opportunity to grow to the best of their abilities! CERTIFICATIONS
Board Certified Behavior Analyst

Child and Adolescent Psychiatry

Clinical Psychologist

American Board of Psychiatry and Neurology

Licensed Professional Counselor

Licensed Marriage and Family Therapist

AAMFT Approved Supervisor

Licensed Addictions Counselor

Licensed Clinical Social Worker

Licensed Speech Language Pathologist

Licensed Occupational Therapist

Licensed Physical Therapist