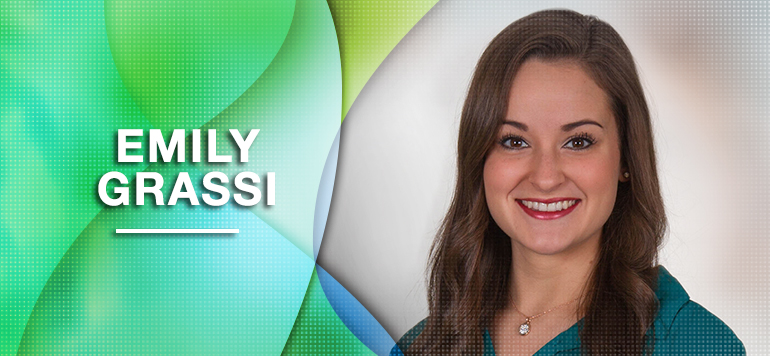 Emily Grassi,
RLT
---
Monroe Office · Autism Center
---
ABA Therapy · Autism Therapy
---
Emily Grassi is a Registered Line Technician who works with children and teens on the Autism Spectrum as well as children who exhibited problematic behaviors and deficits in social interaction. Emily works with these children and teens with a long-term goal in mind to help them gain all academic and social knowledge appropriate for their age.
Emily believes that ABA is the most important intervention that can be taken for children and teens with these deficits. Emily says, "ABA is an early intervention program that should be put into place as early in a child's life as possible, and should continue to be faithfully maintained until the child reaches their full potential."
Emily has worked with The Autism Center for over three years with children ranging from the ages of two to fourteen. Emily is highly trained and proficient in Discrete Trial Teaching, Task Analysis, Natural Environment teaching, and other techniques used within ABA therapy.
Emily graduated from the University of Louisiana at Monroe's college of Business and Social Science with a degree in Psychology, but her hunger for knowledge in the field of ABA has encouraged her to continue her education. She is currently attending graduate courses to become a BCaBA. She will complete these courses in March of 2019.
"I am truly inspired by each of the children I work with every single day. They are one of the main reasons I wake up every morning. These kids give me meaning, and they have shown me what love is all about." -Emily CERTIFICATIONS
Board Certified Behavior Analyst

Child and Adolescent Psychiatry

Clinical Psychologist

American Board of Psychiatry and Neurology

Licensed Professional Counselor

Licensed Marriage and Family Therapist

AAMFT Approved Supervisor

Licensed Addictions Counselor

Licensed Clinical Social Worker

Licensed Speech Language Pathologist

Licensed Occupational Therapist

Licensed Physical Therapist